---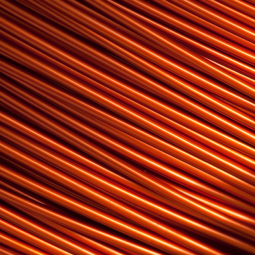 The copper concentrate produced at Mantos Blancos is very high quality, with low levels of impurities, and should remain in high demand by consumers.
Royalty rate and type
1.525% NSR
Balance sheet classification
Royalty intangible
The Group acquired a 1.525% net smelter return ('NSR') royalty over the Mantos Blancos copper mine in Chile for $50.3m in 2019. The Mantos Blancos mine is an open-pit operation located in Chile, producing copper with silver by-products. The NSR entitlement applies exclusively to copper production at the mine.
The operation is owned by Capstone Copper, following the merger between Mantos Copper and Capstone Mining Corp in 2022.
The Mantos Blancos mine is located in the north of Chile, in the Antofagasta Province, in the Antofagasta Region. The mine is 45km north-east of the city of Antofagasta.

Due to a depletion of oxide ore reserves and in order to maintain copper production Mantos Blancos is expanding the sulphide ore treatment capacity from 4.2Mt per year to 7.3Mt per year. The two metallurgical processes in operation at Mantos Blancos are:
Flotation plant (concentrator) for sulphide ore with insoluble copper grade ('ICu') greater than 0.22%
Dump leach process for oxides with soluble copper grade ('SCu') greater than 0.10%
The open-pit operation includes one large open pit (Santa Barbara) that provides most of the sulphide material for the concentrator and oxide material for dump leaching.
Other sources of material are:
Flotation: Sulphide stockpile (Cancha 90)
Dump leach: Oxide stockpile (Mercedes stockpile)
Income from the Group's royalty increased 75% from $3.7m in 2020 to $5.7m in 2021. While the Group benefited from the 9% increase in total payable copper volumes from 41.3Kt in 2020 to 45.0Kt in 2021, the primary driver of the growth in royalty revenue was the 38% increase in the underlying copper price to $8,318/t for the year (2020: $6,044/t). Copper prices have performed well since the beginning of the pandemic as industrial output, particularly in China, remains resilient. Most commentators are predicting a supply deficit in the copper market over the course of the next decade as new supply has been slow to come online at a time when demand, both from traditional sources and the electric vehicle market, has increased. It would appear that over the medium term there could be more upside than downside risk to the copper price.
The operator has focused on optimising production from the expanded plant, which in mid-2022 had throughput capacity for 7.3Mtpa of sulphide ore and expects to achieve steady state production in Q3 2022. Capstone Copper is currently reviewing Mantos Blancos Phase II which will see the throughput of the sulphide concentrator plant expand to 10Mtpa and a potential extension of the life of copper cathode production. A pre-feasibility study was completed in Q2 2022 and will be incorporated into an Advanced Basic Engineering Study in H1 2023.
Key facts
+54%
We entered copper at an opportune time for our shareholders, with copper prices increasing ~54% since acquiring the Mantos Blancos royalty
52Kt
Mantos Blancos has a current capacity to produce around 40-45Kt of copper per annum. Following the debottlenecking programme through 2021, Mantos is expecting a production rate of ~52Kt per annum over the next 10 years
59Kt
Capstone Copper is studying a Phase 2 l debottlenecking plant which could see average mine output as high as 59Kt per annum through 2030, and a life of mine extension beyond 2035